Mobile FeliCa Platform
Mobile FeliCa Platform is a platform compatible with mobile devices developed by FeliCa Networks based on "FeliCa", the contactless IC card technology developed by Sony Corporation. It was launched as "Osaifu-Keitai" in 2004.
Mobile FeliCa Platform consists of the technical specifications of FeliCa Networks to develop NFC FeliCa Devices such as smartphones and wearable devices, and Mobile FeliCa Cloud for supporting the provision of Mobile FeliCa services such as transportation and payment.
By complying with global standards, Mobile FeliCa Platform has been adopted to global payment platforms, namely Apple Pay and Google Pay™, along with Osaifu-Keitai, and its available devices and services are further expanding. In addition, FeliCa Networks strives to offer Mobile FeliCa services for a larger number of customers by undertaking a variety of activities, for example, running the "e-Money Promotion Committee" with six FeliCa-enabled electronic money providers.
FeliCa Networks will continue to promote the further evolution and spread of Mobile FeliCa on a global scale.
Related Links
About FeliCa


* The link will direct you to a Sony Corporation site.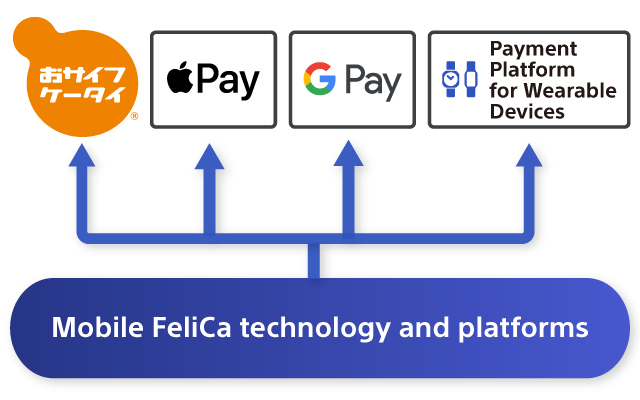 Mobile FeliCa Cloud
FeliCa Networks offers Mobile FeliCa Cloud, a service platform that connects NFC FeliCa Devices with Mobile FeliCa services.
With Mobile FeliCa Cloud, the seamless provision of Mobile FeliCa services becomes possible regardless of OS or platform for smartphones and wearable devices and others.
In addition, Mobile FeliCa Cloud can provide services on a wide range of NFC FeliCa Devices, thereby enabling service providers and device manufacturers to provide added value to their users.
Furthermore, the use of Mobile FeliCa Cloud enables NFC FeliCa Devices with Mobile FeliCa Chips complying to global standards to be used for other mobile contactless IC services in addition to the Mobile FeliCa technology services.
Related Links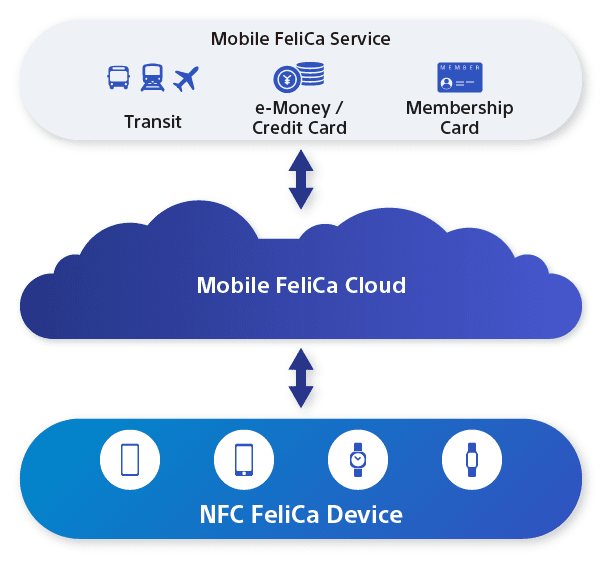 NFC FeliCa Device
FeliCa Networks promotes the spread of NFC FeliCa Devices by licensing all kinds of Mobile FeliCa technologies, including "Mobile FeliCa Chips", with our business partners.
Mobile FeliCa Chips is a Secure Element (GP-SE) that complies with GlobalPlatform®, the global standard for secure components, and the specifications of NFC (Near Field Communication)
, a global standard, and FeliCa Networks provides an environment for our business partners to develop Mobile FeliCa Chips that can be used globally.
In addition, FeliCa Networks encourages the further spread of NFC FeliCa Devices through maintaining and improving the compatibility of NFC FeliCa Devices with its service infrastructure and supporting our business partners' products so as to be compatible with NFC FeliCa.
Related Links
Mobile contactless IC communication Mark
A trademark of FeliCa Networks, Inc., shown on a Reader/Writer and other terminals as a symbol that indicates the area where a device should be "touched".