Information
February 24, 2012
FeliCa Networks, Inc.
Gate City Osaki West Tower 16F Osaki 1-11-1
Shinagawa-ku, Tokyo
FeliCa Networks Exhibits at
Mobile World Congress 2012, the world's premier mobile industry event
~ Integrating mobile device and contactless IC chip technologies
to provide ease of use and enjoyment for the global NFC market ~
FeliCa Networks is introducing and demonstrating NFC FeliCa phones, the world's first commercially introduced and widely used mobile phones equipped with a contactless IC chip. FeliCa Networks is also featuring its initiatives in NFC (Near Field Communication), the rapidly growing, global standard short-range wireless technology platform.
In 2004, Japan became the first country in the world to introduce services that integrated contactless IC chip technologies into mobile phones and reception devices. The collaboration of mobile network operators, set and device manufacturers, system integrators and service providers has led to the rapid popularization of these services. As a result, a single mobile phone can be used for multiple applications, such as e-money, credit cards, transit tickets, concert tickets, employee ID cards, customer loyalty programs, building access cards and keys, by simply tapping it on a reader. Because this new lifestyle infrastructure offers superior ease of use and convenience, the number of contactless IC services has continued to grow rapidly.
To support the development of the NFC FeliCa phone ecosystem, FeliCa Networks is working with businesses in IC chip development, licensing, Trusted Service Management (TSM) and service introduction. Utilizing its eight years of business experience and know-how, FeliCa Networks is encouraging the evolution of new services that maximize the integration of NFC with increasingly popular smartphones. Given new developments in telecommunications services, such as global roaming, FeliCa Networks intends to expand its efforts and develop new services on a global scale.
The total number of wireless subscribers who own an NFC FeliCa-enabled mobile phone implemented with our technology and solutions reached approximately 70 million in 2011. In January 2012, the cumulative number of Android smartphones installed with a FeliCa chip exceeded 10 million units. With the anticipated further growth of smartphones, our goal is to develop more high-value-added technologies and services for an innovative, convenient and entertaining mobile world in the promising NFC market.
NFC stands for Near Field Communication and is a short-range (maximum of approximately 10 centimeters) wireless technology that operates at a frequency of 13.56 MHz. It can be used for contactless IC chip cards as well as for communication between devices. Because communication takes place only when the device is brought into close range with a "tapping" motion, it has gained widespread attention as a means of communication. It is compatible with contactless IC card international standard ISO/IEC 14443 Type A/B as well as FeliCa's communication technology standard. NFC is derived from a communication technology specified by ISO/IEC 18092, the international standard for short-range wireless communication modes.
For your reference
The World's Largest Mobile Industry Exhibition
Mobile World Congress 2012
Overview :
- The GSMA Mobile World Congress combines the world's largest mobile industry exhibition with an innovative and exciting congress featuring leading mobile operators, vendors, and content owners from across the world.
- 2010 marked the successful introduction of App Planet, bringing together critical elements of the mobile application ecosystem through App Developer Conferences, exhibitions, networking, and other activities.
Venue: Barcelona, Spain "Fira de Barcelona"
Date: February 27(Mon) ~ March 1, 2012 ( Thu)
Number of Attendees: More than 60,000 (2011 MWC)
Number of Exhibitors: More than 1,400 (2011 MWC)
Organizer & Promoter: GSM Association
Website: http://www.mobileworldcongress.com/

FeliCa Networks is located in Hall 7, Booth#7A107 in Japan Pavilion organized by JETRO( Japan External Trade Organization). The booth will feature " the world of NFC in Japan" based on technologies and platforms developed by FeliCa Networks We will demonstrate current services and Overall
Networks. commercial solutions using NFC FeliCa-enabled Android smartphones. We will also showcase our efforts to integrate our solutions with the global NFC standard of the future.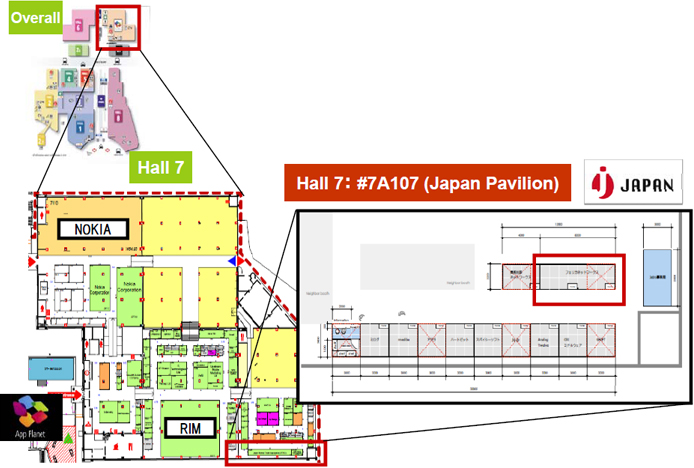 At MWC, FeliCa Networks is showcasing the following NFC and global business initiatives:
1. NFC chip development
In cooperation with semiconductor manufacturers, FeliCa Networks is developing an NFC chip for introduction in 2012. This chip can be used in FeliCa and other contactless IC card devices. In addition to its existing partnerships with Sony Corporation, Renesas Electronics Corporation and Toshiba Corporation, FeliCa Networks is collaborating with NXP Semiconductors N.V., a global contactless IC chip semiconductor manufacturer based in the Netherlands, and Samsung Co., Ltd., a leading company in semiconductors, mobile phones and digital devices. Product introduction is slated for 2013. Through these collaborations, and with the support of mobile network operators and mobile phone/mobile device manufacturers, we are working to develop and expand the global market for NFC services.
2. NFC Trusted Service Management (TSM)
Along with the development of NFC chips, FeliCa Networks will expand its Type A/B and NFC Trusted Service Management (TSM) with new offerings planned for 2012.
3. Global expansion
To popularize the convenience and ease of use of NFC FeliCa phones on a global scale, FeliCa Networks plans to propose and support the rapid introduction of new services. Furthermore, through NFC chip development and utilizing its experience in establishing an NFC-FeliCa service platform, FeliCa Networks aims to provide solutions to mobile network operators as well as a diverse range of other companies that are developing and expanding their service offerings globally.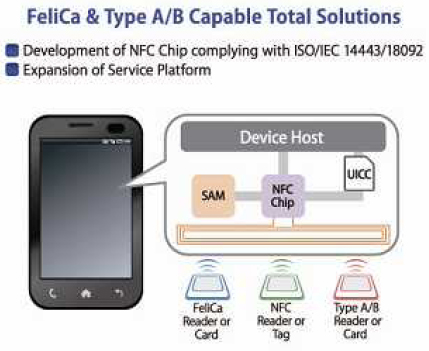 SAM: Secure Application Module; UICC: Universal Integrated Circuit C